:thumb213807675::thumb266324966:

ATTENTION ART TRADERS
I work best under deadlines. Therefore, I assume you do too. If I post first, I will give you two weeks to get yours up. After one week, you will get a warning. If you need an extension, I will give it to you ONLY if you request one. If not, it will turn into a point commission, regardless if you post it or not. (ok, if you're a day late, but I'm talking if you're super late. That is for me to define.)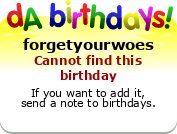 CRITIQUE POLICY

I don't care if you are a worse artist than me; I LOVE LOVE LOVE LOVE LOVE LOVE to be Critiqued! always be honest and straight forward. If you don't like something, please tell me what I could do to elevate my skill and make it better. Almost everything I post can be critiqued.

If I critique you, PLEASE critique me back! It is the least you can do to help a fellow artist! It is said a picture is worth a thousand words, and I believe that a critique is a great way to say those thousand words. If you do not feel confidant in your critique strategies, do it anyways! The best way to learn is through practice; weather it's math, art, or critique.

Thank you so much, and enjoy my gallery.